Last updated on July 4th, 2023 at 01:38 pm
This product list contains affiliate links. This means that at no extra cost to you, I may earn a commission if you use one of these links to make a purchase.
Blending has become a pressing need. You are always going to find a blender in a kitchen. Over the years, owning a blender has become as normal as owning a toaster, mixer or oven. The rise in demands of blenders has led to the development of many blender companies. One such company is Blendtec. Their blenders are very famous as they are engineered and manufactured in the USA. They are also known for their long-lasting nature and high-strength blades. It is known that the Blendtec Blender blades are 80% thicker than other blender blades on the market.
I have come across many blenders, but never have I ever found any company other than Blendtec that has served only the most highly functional blenders. When it comes to operation, their top-notch blenders have no competition in the market. Their sheer focus on blenders is one of the main reasons why the company has won the hearts of many users time after time. Today I will discuss six of their blenders for you to make a choice. Blendtec will prove to be the company that you will be bound to go back to if only you try their famous commercial and domestic blenders.
Table of Contents
Blendtec Blenders Top Model Reviews
Let us start our discussion of these six blenders now –
1. Blendtec 8-speed Blender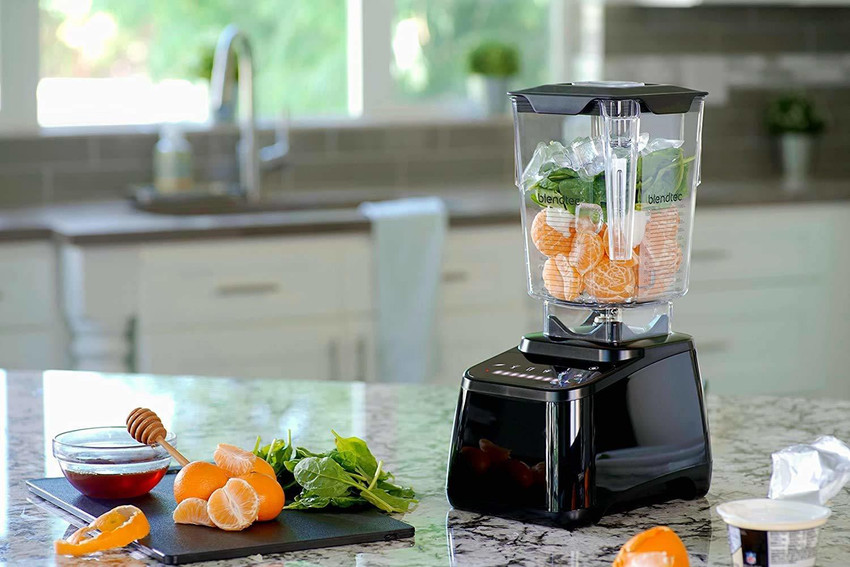 I especially wanted to discuss this blender from the Designer Series of Blendtec. Honestly, there are too many reasons for its inclusion in the list. However, I would try to mention everything vividly for you to get all the details on its features and specifications. The best thing I like about this blender is that it can be monitored and controlled in eight varying speeds. Can you believe that? Eight different speeds help for different consistency achievements in foods. Its black design is shiny, unlike many black blenders that are matte. Watching and coming along too many matte options can be a no-no for some people. This can be because some buyers truly like shiny finish as it makes the appliance look newer than ever. You will get just that in this blender's body. The jar than comes with it has a capacity of 90 ounces. Because of this enormous capacity, this is one of the most suitable blenders for a large family.
There is also an availability of pre-programmed cycles (six in number). If you are confused with the eight speeds, you can simply take the help of these cycles to get a desired consistency and cuts in foods that you are thinking to blend. One more good thing about the product is that it is also available in colors other than black. Hence, you can genuinely infer that this series has everything that a person may ever need or have any desires for. Once you start using this blender, you will never feel that it is going out of control as you will always be able to control the blade. This blade is also more robust more than ten times when compared to other blender blades. Hence it will never make any unwanted pokes or cuts. For cleaning, you can pick the self-cleaning method where you simply blend a soapy solution in the blender. But if you find that a job full of a hassle, then you can also go wash the jar in the sink.
2. Blendtec 575 Classic Blender
Other than black, this countertop blender is available in marvelous and lovely colors, which are – the Caribbean blue, polar white, slate gray, orchid purple, etc. I am pretty sure as a buyer; you will like all of them. However, it is often seen that consumers are more inclined towards the black or white versions as they fit in modern kitchens very well. But if you own an aesthetic café or diner, then there is nothing wrong with going with colors other than black and white. Pancake batter, smoothies, cocktails, hot soups everything can be made in this blender. You name it, and you will have it in front of you to feast. For smoothies, you can blend all fruits such as – avocados, kale, banana mangoes, etc. Let's not forget to discuss the blender's ability to make batters for cupcakes, cakes, muffins, etc. you can also use it to chop vegetables so that you do not waste any amount of time when you are cooking in the kitchen.
Everything smoothly runs when you have this blender at your homes. It can be operated at five different speeds, which can be viewed easily on an LCD of the lower body of the appliance. The buttons are all one touch and do not require pressurized contact. The jar of the product has measurement lines on it. Hence, you can never go wrong with the amount of blended food. You can also use it as a measuring jar for other measurements in the kitchen. Make sure you handle it carefully as it made from Glass. Every blender is manufactured domestically and has the utmost amount of quality. You are going to enjoy using this for multiple types of food blending in your house.
3. Blendtec Total Classic Blender
The patented blade of this blender is made using stainless steel, which is thicker by 80% compared to other steel blades of blenders. Hence, this appliance is one of the first choices of people around the world when they are hoping to buy a blander for their kitchen. You can prepare large batches of blended food once you have this blender at your kitchen countertop. The blades of the product are winged to glide better through the toughest foods and make amazingly smoother blends at all times. There is also a timer in this product, so you can easily look for the time that you have spent on blending. This timer also helps when you are about to self clean the huge blending jar that comes with the product.
Other than the bigger jar, you also receive a smaller version. This little jar can be used in blending small food batches such as nuts and butter. Hence, there is never a great hassle when it comes to cleaning or maintaining the product. All the buyer of this blender has to do is choose the right size of the jar as per his/her blending requirements. You can use both the jars for wet as well as dry blending. Their bodies are made using Glass, which is why they are suitable for all types of food and remain food-safe for a long time. If you wish, you can also make beverages such as cold tea or cold coffee in this blender. Hence, you can save the money that you spend on buying drinks outside. The wattage of this blender is 1560 Watts; thus, you must be a little careful in its usage; otherwise, you might notice a massive spike in your electricity bills.
4. Blendtec 575 Classic Blender (Two Jars)
Just like the previously mentioned blender on number three, this blender also comes with two glass jars that have different capacities. Buyers love buying such versions because it enables them to save some cleaning time and have access to the other jar when one is lying the sink. The bigger jar's capacity is 90 ounces, while that of the smaller one is 75 ounces. Both of them have markings on them for better and accurate food measurements. You can also choose the product in some bright colors, which include: orchid purple, poppy red, and Caribbean blue. This does not mean that you won't find the appliance in universal colors. You can go with white or black options if you do not want a color funk or pop in your kitchen.
The size of the jars varies, but it does not differ hugely. Hence, they can efficiently act as a replacement for each other at the time of emergencies. The blender can be manually controlled at five different speeds, but if you wish, you can also operate it from the four pre-programmed cycles. All the speed levels and cycles are enough to give you the desired texture in the food that you are blending. Additionally, the jars are also free from BPA. Hence, buyers won't have to worry about whether they are safe on foods or not. This often comes in our minds when we are blending baby foods. Hence, all I want to say is that you do not have to worry about the food being safe when using the Blendtec 575 Classic blender. You can also make beverages in the blender for a maximum of three to four people. Buy it now and know that you will never regret it.
5. Blendtec 575 Classic Blender (Fourside Jar)
The jar that comes with this blender is very tall. If you want to know its dimensions, I am going to mention them too. They are – 15 X 8 X 7 inches. These dimensions qualify the jar to be enough for usage by a family with many members. Like many other Blendtec blenders, this blender can be controlled at five different speeds. These speeds can be controlled manually. All the buttons on the operation base are one-touch. Hence you won't have to press them too much so that they start blending. Be it smoothies or cocktails; this blender will always do its job pretty well. It runs on 120 volts and consumes 1560 watts. Hence, you will be able to operate it in all places in the USA. The blade is thick, and all the parts of the jar are made from the material, which is free from BPA.
This blender is engineered to give you the most qualitative blending experience. It does not matter how many times you think of using this blender, it will not give up, and you will always be amazed by its performance. The jars will pull even the most chunky pieces towards the blade so that they get blended, and you get the perfect consistency in every type of food. Making mixed drinks is also comfortable with this product. When you have guests over, you will never feel stressed as this blender will help you prepare and serve some refreshments in just a few minutes. To have a blending surge, you must try blending things in pulses. This way, everything will get blended without any wastage of time. Pulses will let you have a better view of everything you blend as it will make things jump and toss inside the jar of the blender.
6. Blendtec Total Original Classic Blender
Have you ever come across a blender than can be run at ten different speeds? If no, then you have come across one right now. Yes, this Blendtec blender can be operated at ten varying speeds. Isn't that simply fantastic? It has professional-grade power and comes with two different sizes of jars. Once you are done using one and do not wish to clean it soon, you can simply pick the other one to blend things in the kitchen. It is one of the best Blendtec blenders for blending smoothies. Having smoothies every day for breakfast is a very healthy practice. All you have to do is toss some of your favorite fruits and veggies into the jar and blend it to achieve the right texture. Other than smoothies, you can also try to make some drinks and cocktails in the appliance. With that, you will be able to host a party with your friends and colleagues without stressing over how you would arrange the drinks. And did you know? You can also use the product to heat your soup. Pour the soup in the blender and run it at optimum speed. The friction in the blades and soup will help generate heat that will be imparted to the soup. And there, you will have perfectly heated soup in your bowl. Once you own the product, you might also find many other uses. Hence, the wonders of this blender will never cease. You can use it multiple times a day, and it will not cause any problems. Maybe this is why Blendtec is a company that serves the blending needs of many commercial kitchens worldwide. You can find their blenders in the most reputed and well-known restaurants, café, and eating outlets across America very easily.
Why Choose A Blendtec Blender?
There are many reasons why one must choose a Blendtec Blender. Hence, I thought of bringing them into one place so that you can have one-stop access to them. I will try to discuss the most important reasons to choose Blendtec Blenders.
However, that does not mean that you will not find any personal reasons to love these blenders as much as many of the previous buyers from the company. Let us start with the discussion now –
Reliable Motors: While you can find many cheap blenders in the market, you have to know that this cheapness in price is because of the low-quality motors used in them. These low-quality motors are the reason why these local blenders give up very easily. They mostly only last for a few months or years. Hence, you will need to replace them again and again. However, with Blendtec Blenders, you will only receive the most high-functional blenders. These motors are why the blenders can be operated and used multiple times a day and sometimes even non-stop.
High-Quality Material: Blendtec is always focused on using only the most qualitative materials in manufacturing their blenders. Be it the blender's body or jars, every part of the blender is made from a material that is built to last. Their jars are generally made from Glass so that the user of the appliance always has a good view of his/her food in the blender. Glass is known to be the least reactive material with food and is hence termed as the safest material for storing or eating food from. The bodies are engineered very well so that each little piece has a place in the blender and does not fall out in any situation.
Multiple Functions: You can blend everything in Blendtec Blenders ranging from smoothies to batters to drinks. Now, what can be more amazing than this? All your blending needs will be served with a single appliance at once. Many people also claim that they also use the Blendtec Blenders for chopping food. Everyone has to hone his/her skills of knowing the speed that the food requires for the chopping process. This multifunctionality will also help buyers make different types of drinks and dishes right in their kitchen. This feature will also reduce the dependability of buyers on packed foods in the supermarket and make only the freshest versions of such foods their home.
High Blending Power: Most of the Blendtec Blenders can be regulated at different speeds. They also come with pre-programmed cycles so that everything runs well, and even beginners can use the blenders. One of the best features of Blendtec Blenders is that they have a very high blending power. The jars pull food pieces to the blade so that the required consistency and texture can be achieved at every blending session. Once you own a Blendtec Blender, you are never going to pick blenders from any other company. Their blenders have a high life span and will prove to be the longest-lasting blenders in your kitchen.
Bottom Line
Blendtec is a leading name when it comes to blenders. Their blenders are used in many commercial kitchens in the world. Many people have loved having them in the kitchens of their homes. You can never point a flaw in the design of their blenders. They are also the best when you are considering the blending power and speed levels of their blenders.
You are not going to regret owning a Blendtec Blender you can be sure of that. Choose the blender you think will best suit your blending needs from the six options mentioned above.
This product list contains affiliate links. This means that at no extra cost to you, I may earn a commission if you use one of these links to make a purchase.